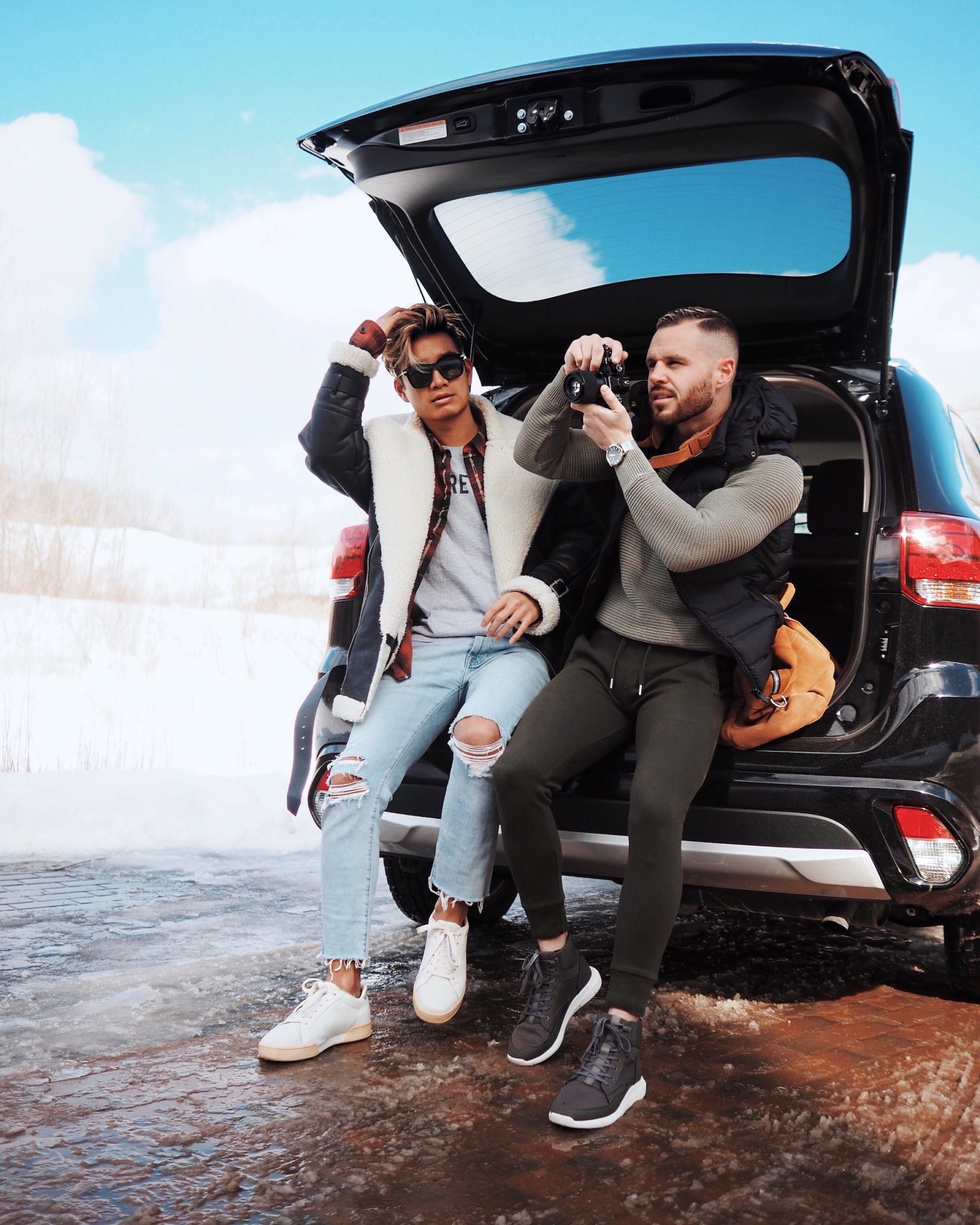 Last week, my buddy, Daniel Ocean, my assistant, Vyvian and I took the brand new Mitsubishi Outlander PHEV for a test drive in and around Toronto. Having heard about this vehicle's highly anticipated arrival in Canada, we were very excited to try it out firsthand. The Outlander PHEV is the best-selling plug-in hybrid SUV in the world, with the most technologically-advanced 4WD system in the plug-in hybrid category.
Aesthetically from the outside, the Mitsubishi Outlander PHEV is a well-balanced SUV with clean lines and design. Inside, you have all the bells and whistles that you could want in an SUV, like heated seats and steering wheel, climate control for both driver and passengers, and plenty of space for long distance drives with a full car.
Daniel and I took turns in the driver's seat and we both found the drive to be very smooth, even shifting between the various drive modes. The Outlander PHEV's twin electric motors allow it to run solely on electric power, even in 4WD, which is a first in Canada. We drove on some snowy roads and it was fantastic.
Charging was easy too! The Outlander PHEV is able to charge itself while driving, as well as automatically select one of three unique drivetrain modes for optimal performance and efficiency on the road. With its new technology the Outlander PHEV is the only plug-in SUV that is able to charge with a fast-charger so we got an 80 per cent charge in about 25 minutes.
In terms of safety, Mitsubishi has put all of the latest technologies into the Outlander PHEV. Lane Departure Warning, Blind Spot Warning and Forward Collision Mitigation systems are among the many safety features in place to assist you when you're driving. And when it comes time to park, there is a multi-view camera, which makes even the toughest parallel parking situations a breeze.
The greatest thing about the Mitsubishi Outlander PHEV is that you get the benefits of a plug-in hybrid vehicle with no compromise on any of the features you'd want in an SUV – all at great price.
It's definitely a vehicle to check out!