As aways, New York Fashion Week was amazing! During all of the excitement, it felt like the week would never end. However, now that it's all over it feels like a dream. A whirlwind of runway shows, parties, meetings and taxi rides, fashion week is nothing but constant action. And then there's the daily question of 'what to wear?'.
The February shows are already trickier to dress for than the September shows, because of the cold, winter weather. This past fashion week was especially frigid as well, dipping much below freezing. Just grand, when you have to be outside, traveling around the city to shows, all whilst trying to look half decent.
Lately, I've been favoring a more limited color palette, dressing in only one or two colors/shades. For fashion week, I like to experiment with new looks too, like this one on Day 1, wearing a suit and wide brimmed hat: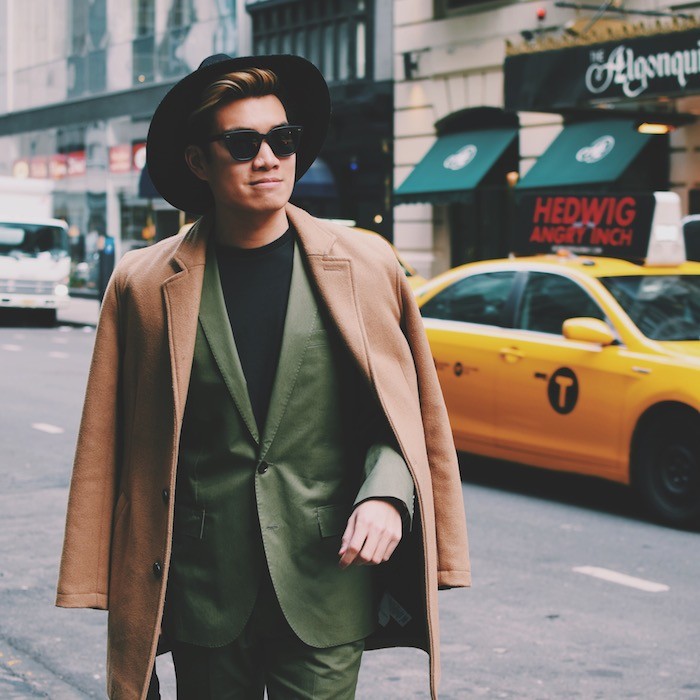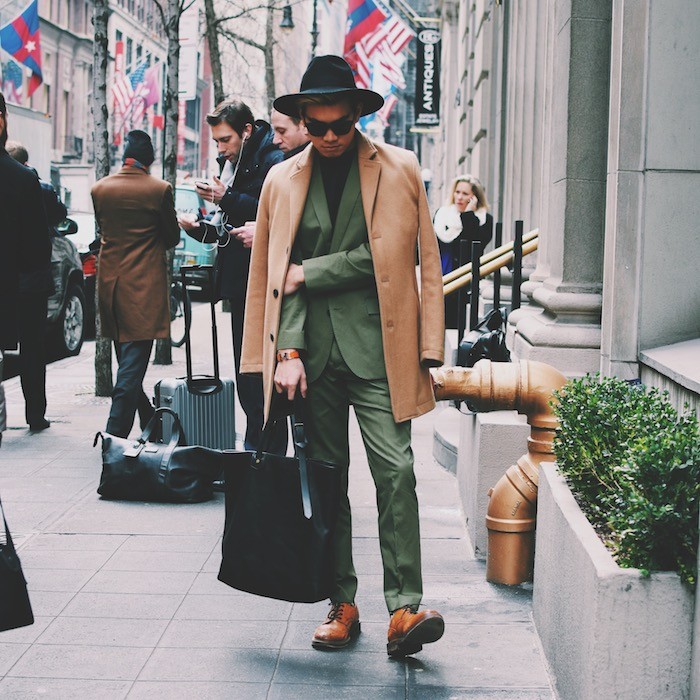 KENTON Creative Director, Terica and I were snapped outside the tents by @watchthelens that afternoon.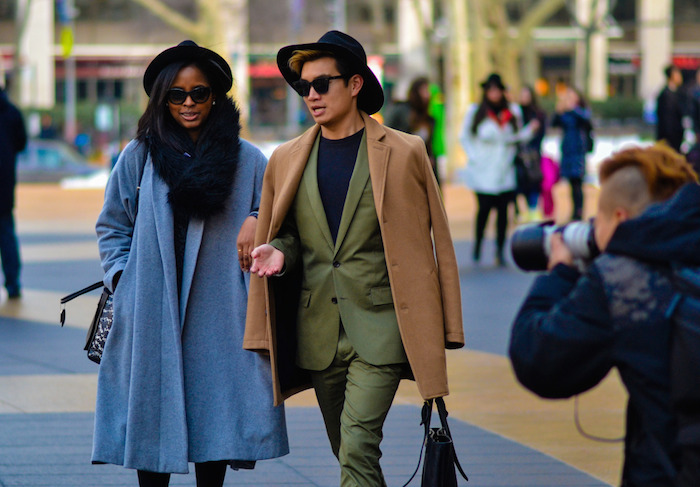 What I was wearing:
J. Crew suit
Topman camel coat (similar here)
Aldo shoes
Tiger of Sweden hat (similar here)
Hermès bracelet
Coach bag
TOMS sunglasses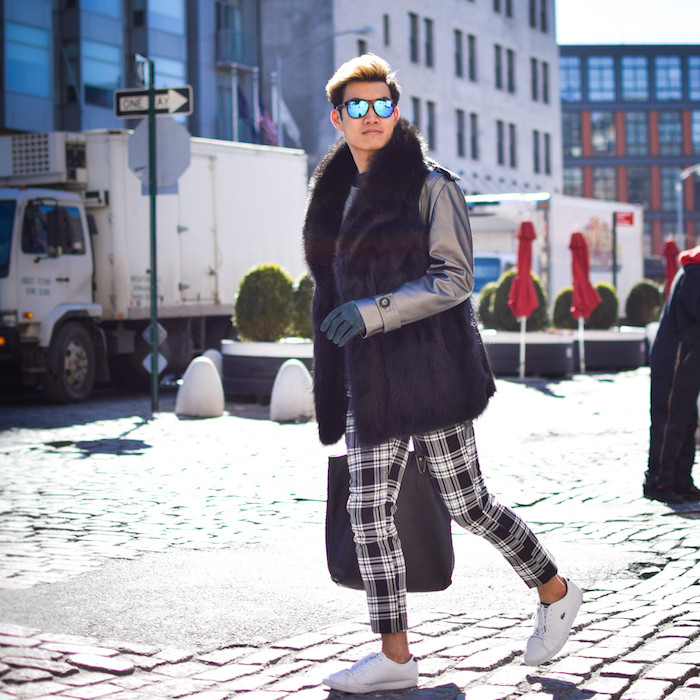 On Day 2, I wore an amazing fur coat that I loaned from my friend and designer, Farley Chatto. It was both ultra-lux and ultra-warm.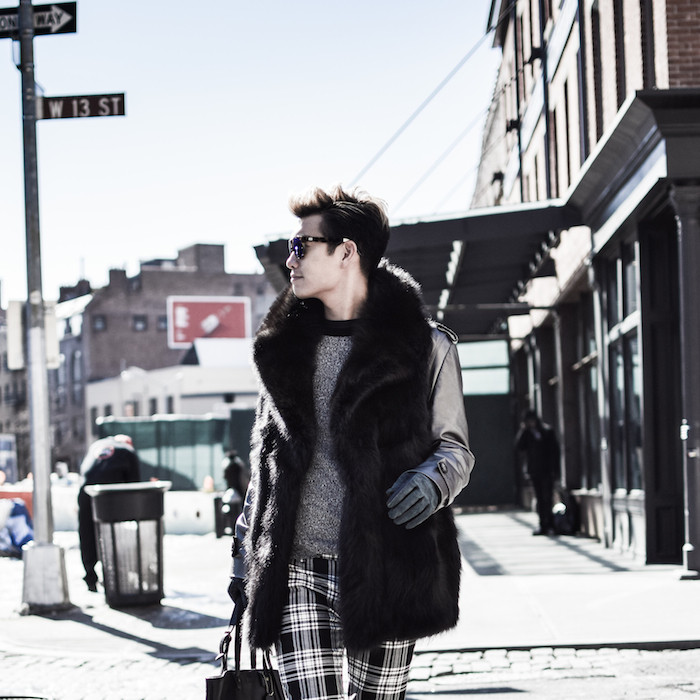 What I was wearing:
Farley Chatto fur coat
Frank & Oak sweater
Topman plaid pants
Lacoste sneakers
TOMS sunglasses
Coach bag
Quill & Tine gloves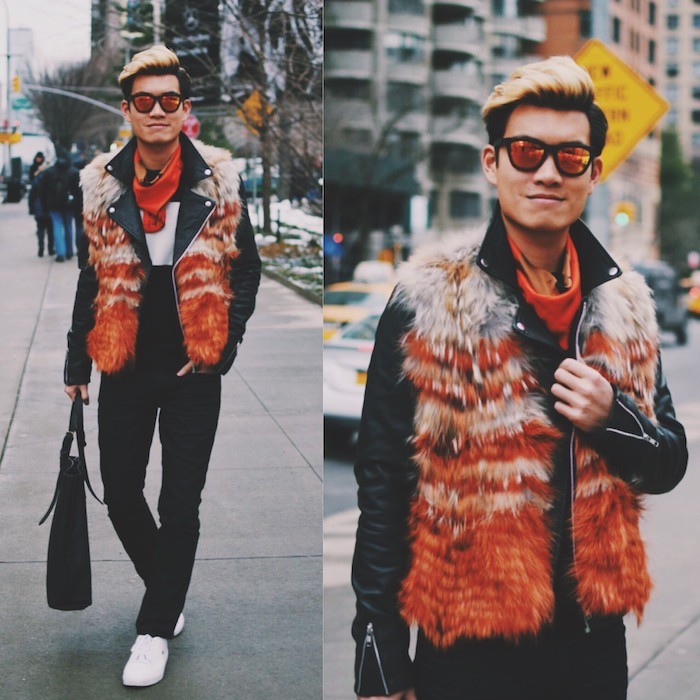 For Day 3, I did a black, white and orange look that was part sporty, part biker and part western – a collision of style influences.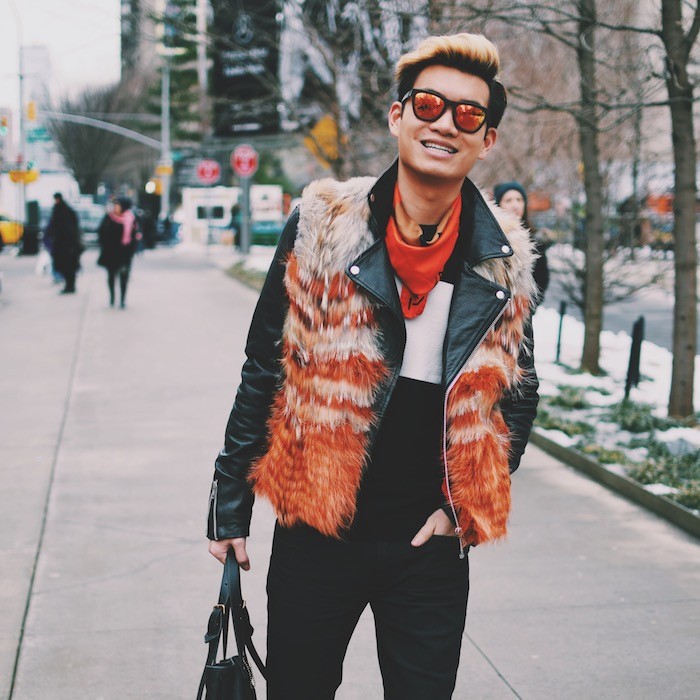 And then Justine and I made it into Vogue Japan for our coordinated, Valentine's Day couple style!!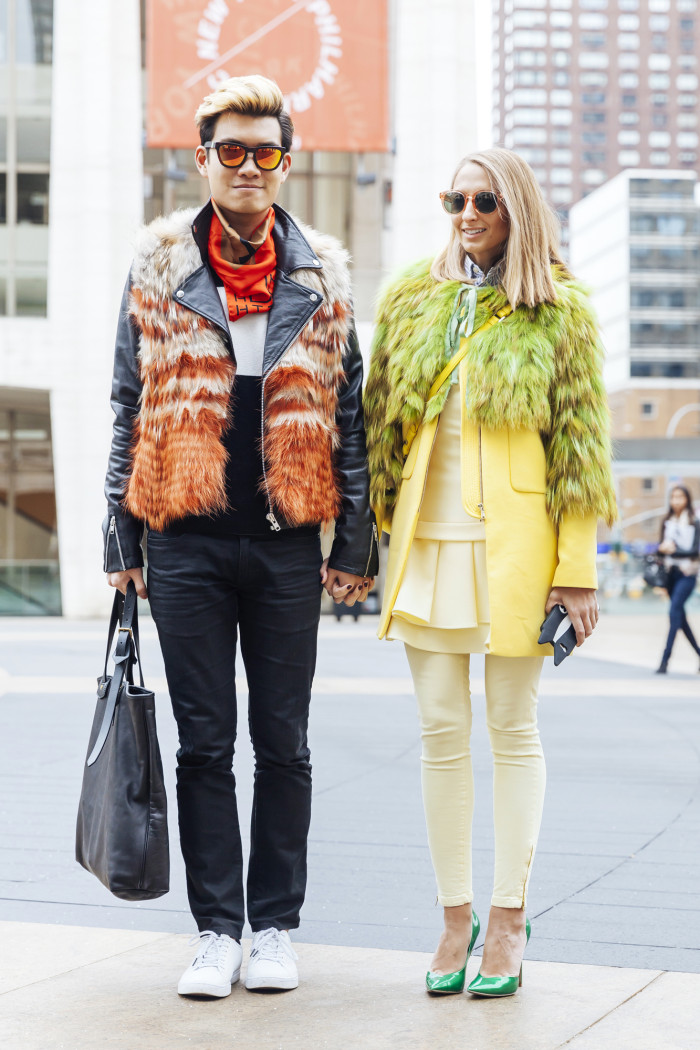 What I'm wearing:
Farley Chatto fur vest
Topman leather biker jacket
Frank & Oak sweater
Gap jeans
Lacoste sneakers
Coach bag
Westward Leaning sunglasses
Part way through the day, Justine and I both had an outfit change. Here we are outside the fashion week tents, snapped by Jeremy Kang. Love this shot – you can even see the falling snow!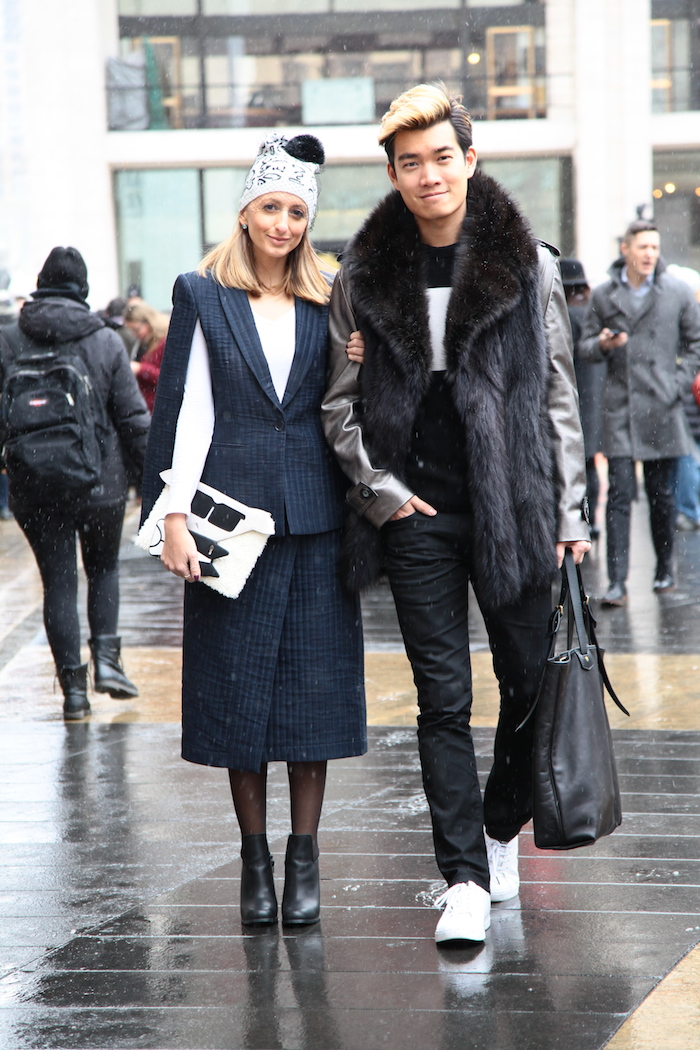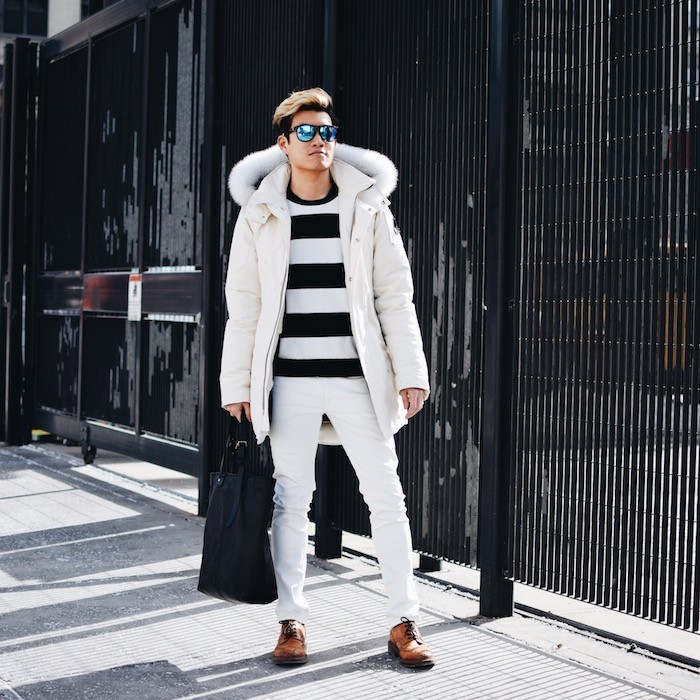 Day 4 was really cold out, so I gave in and wore a parka. But not to fall prey to the shadows, I opted for a winter white (and a little bit of black) look.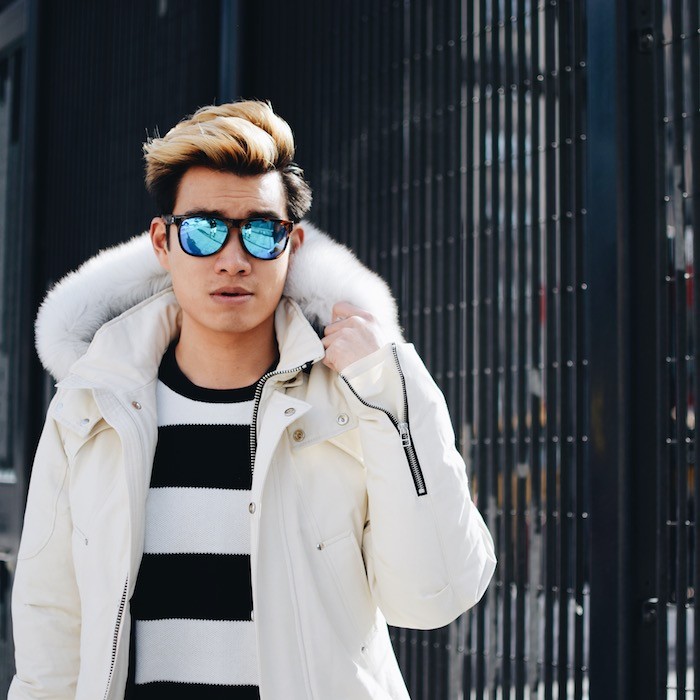 What I'm wearing:
Moose Knuckles parka
Le Chateau sweater
Topman jeans
Aldo shoes
TOMS sunglasses
Coach bag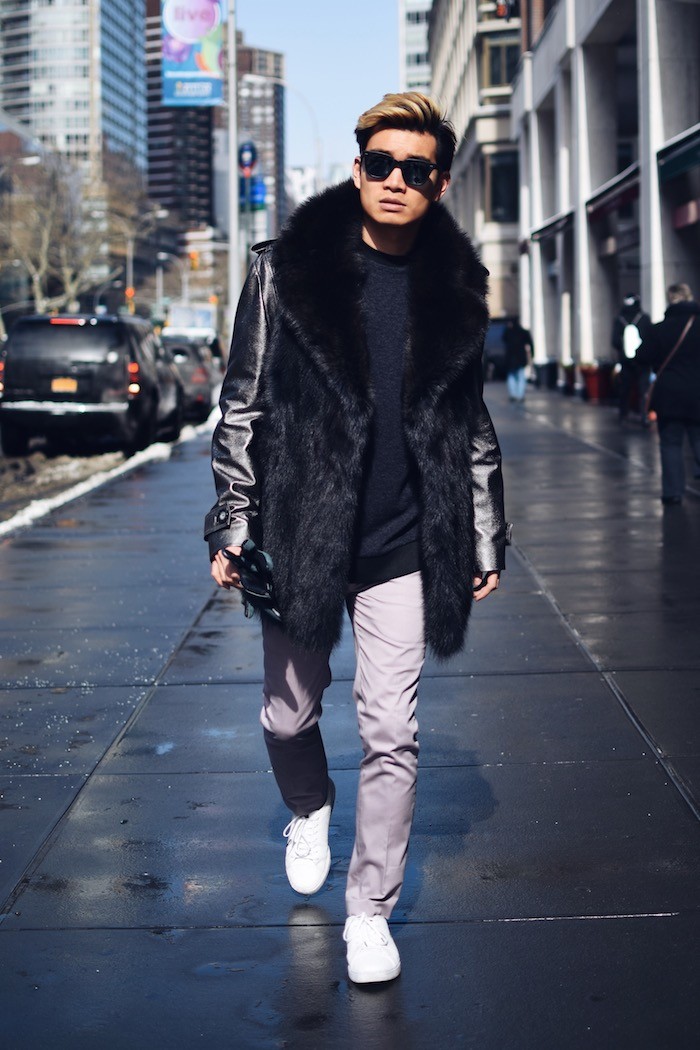 For my final day of Fashion Week shows, I was back in fur. Picking up on the mauve undertones of the fur's color, I continued that palette with a dark purple sweater and light lavender pants.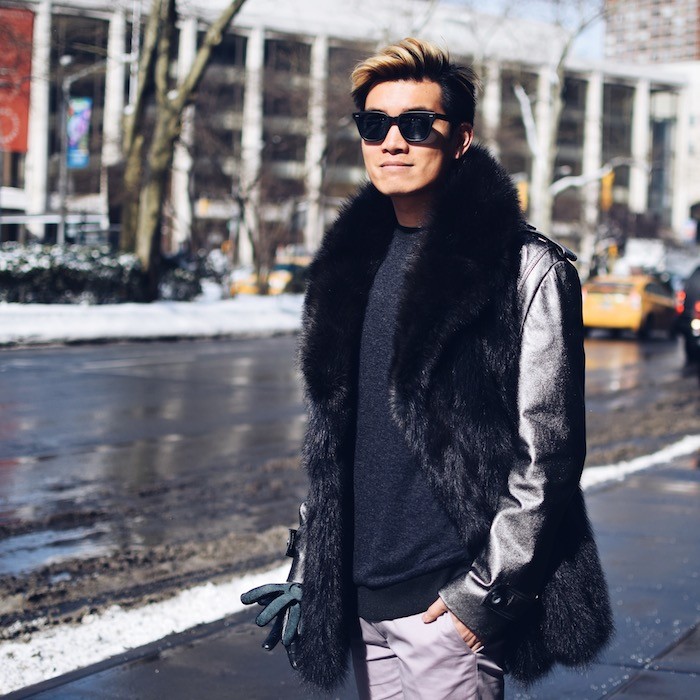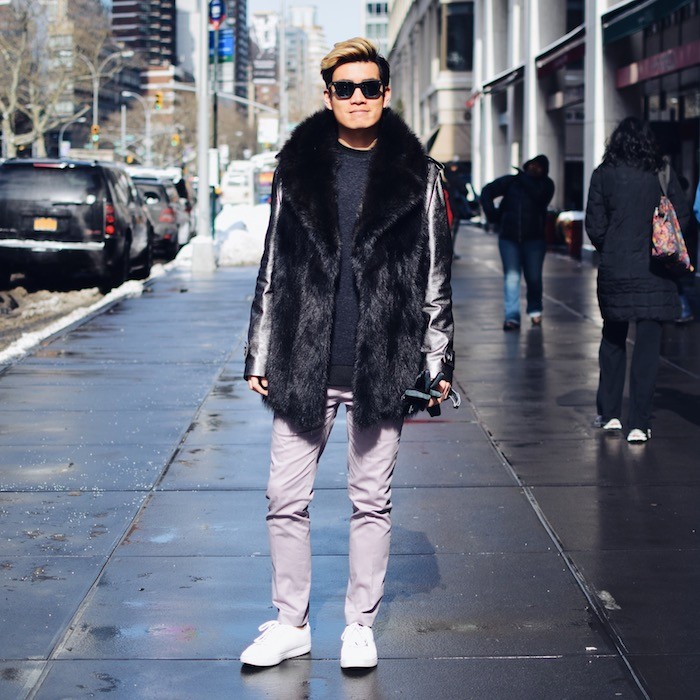 What I'm wearing:
Farley Chatto fur coat
Topman sweater
Topman pants
TOMS sunglasses
Lacoste sneakers
Quill & Tine gloves
And there you have it – all of my New York Fashion Week looks in one place! Until the next…
Which look was your favorite??